Previously, I reviewed the mySugr diabetes logging app and the Accu-Check Guide glucose meter separately. In this post I review of how they work together.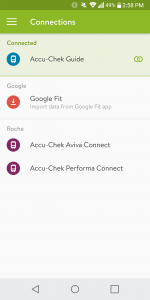 The mySugr app supports data imports from several meters. I tested out its integration with the Accu-Chek Guide. The experience was a mixed bag.
auto-magic data transfer
Once connected, the Accu-Chek Guide sends the glucose reading, date, and time to the mySugr app on a smartphone using Bluetooth. The BG reading appears in the mySugr app with an asterisk [*] and the note "Blood glucose verified by AccuCheckGuide."
This cuts out one very important step in logging: manually entering the BG reading into the app. While that may seem like a small thing to the uninitiated, for me the logged BG reading becomes the basis for filling in the details as-I-go and when I do my end-of-day review. I don't have to go back and forth between the meter and the app to capture the day's readings. Which, believe it or not, I find fatiguing.
The second auto-magic thing the date transfer does is, if you do make a manual entry into mySugr with a time stamp very close to the time stamp of meter's BG reading, both entries are merged into one. So, instead of ending up with a series of partial log entries you get a single, consolidated entry. This is delightful.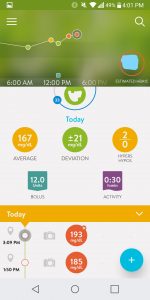 This also means that if you manually enter the BG reading into the app the meter will overwrite that number when the data transfer happens. You know this has happened when you see the asterisk next to the BG reading in the mySugr app.
The disappointing thing about the data transfer is that it only transfers the date, time, and BG reading. The Accu-Chek Guide gives you the ability to tag each BG reading as being before or after a meal, at bedtime, or other. Even though these tags align directly with tags in mySugr, they don't transfer automatically.
bluetooth frustrations
mySugr and the Accu-Chek Guide connect using Bluetooth. Bluetooth is wobbly-bobly.
Continue reading "Digital Health Product Review: mySugr and Accu-Chek Guide"